How to Photography lighting techniques: creating dark imagery in a light natural light studio
When we moved into our new studio a little over a year ago, we didn't realize sharing the space with a master oil painter, my mother-in-law, Ann Ponce, would come with certain perks—like learning the art terminology for our photography lighting techniques . After taking these images below, I showed Ann the results and she said with a pleased tone—"this is like chiaroscuro."
"What is chiaroscuro?" I asked.
She immediately pulled up google images and showed us the results. The method, widely popular during the Renaissance, has also been described simply as "painting with shadows."
The technique: how to paint create dark images in a light natural light studio
We fell in love with this style at our first studio. The space was all white, with windows on three sides. While it was great for creating soft, airy photos, we felt limited. We wanted to make darker imagery that evoked a sense of mystery and depth, but we we're able to with our natural light conditions.
One day—eager to overcome this challenge—we got to work on finding a solution. We thought about the spaces we'd visited while traveling—Angkor Wat in Cambodia and several monasteries in France, where small streams of natural light burst through archways, creating a dramatic three-dimensional effect.
How can we create that, too?
We knew white reflects, while black absorbs. With that in mind, we pulled two v-flats (large, nine-foot foam core boards) together and created what we now call, "The Black Box," which has a small gap between the black sides of the v-flats, allowing window light to slip in.
The moment we realized we were able to take these types of pictures, even on the brightest of summer days, felt liberating.
This method allows us to select exactly what we want to highlight—the contours of the face, the curve of a hip, the contrast of a dark curl against pale skin. We took the technique with us to our new location. We didn't know it at the time, but it really is like "painting with shadows."

For a peek behind-the-scenes of this lighting set up, check out the pictures below.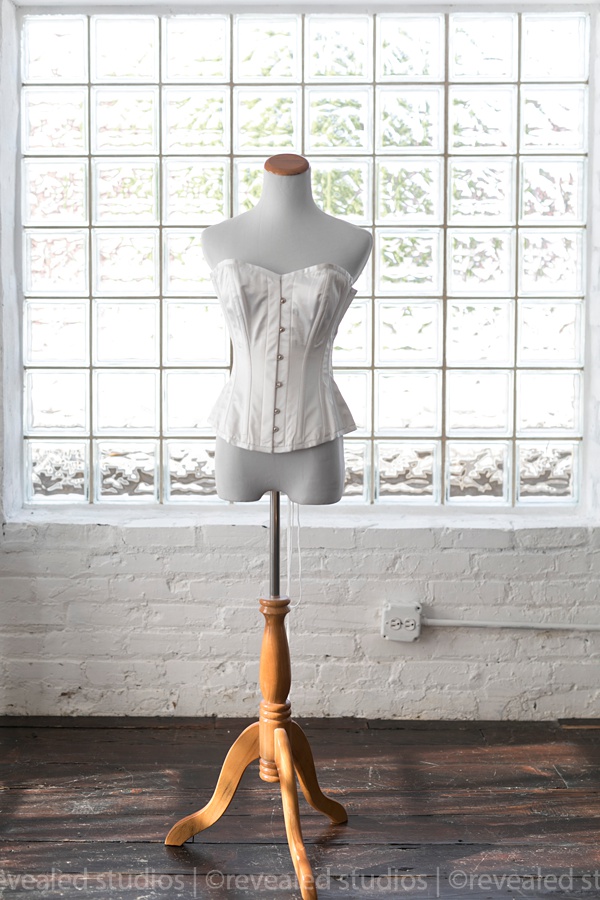 In this first image, you can see our studio space has a lot of natural, bright light.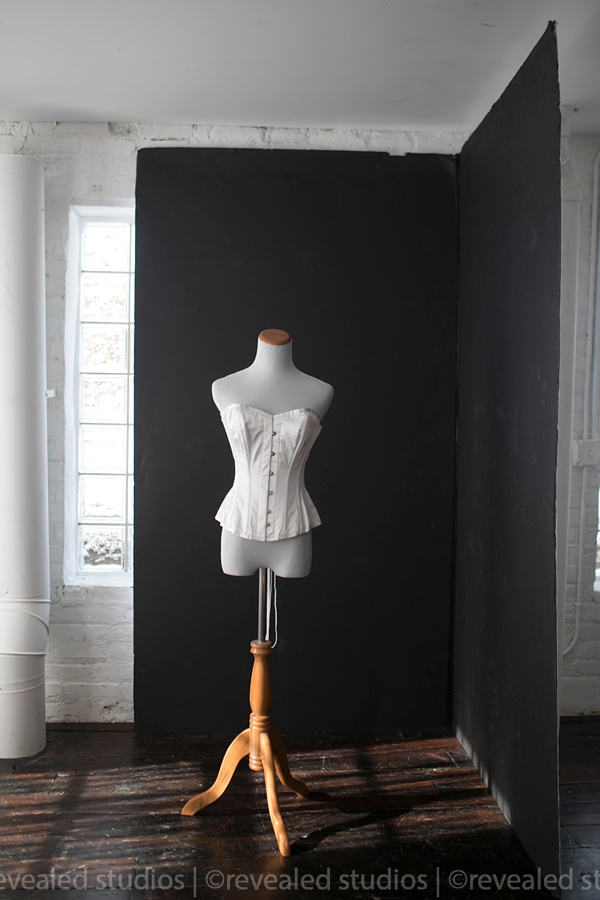 The first step for creating the "dark room" affect is to bring in a v-flat on either side. In this photo, you can see that even bringing in just one on the right side creates a deeper shadow on the dress form.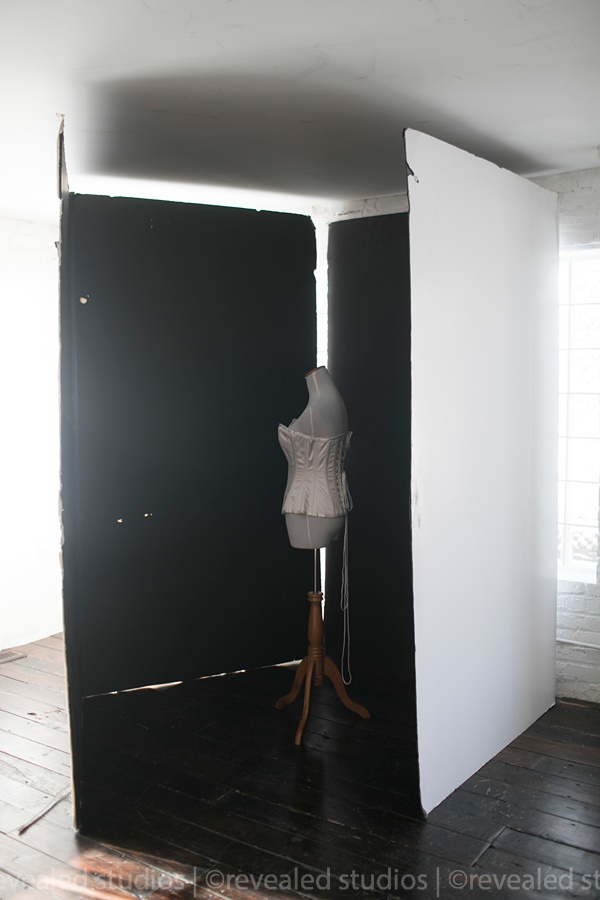 Step two: bring in a second v-flat on the opposite side, leaving just a small gap between the two seams at the back. This sliver of light is what will create the highlight in the otherwise dark scene.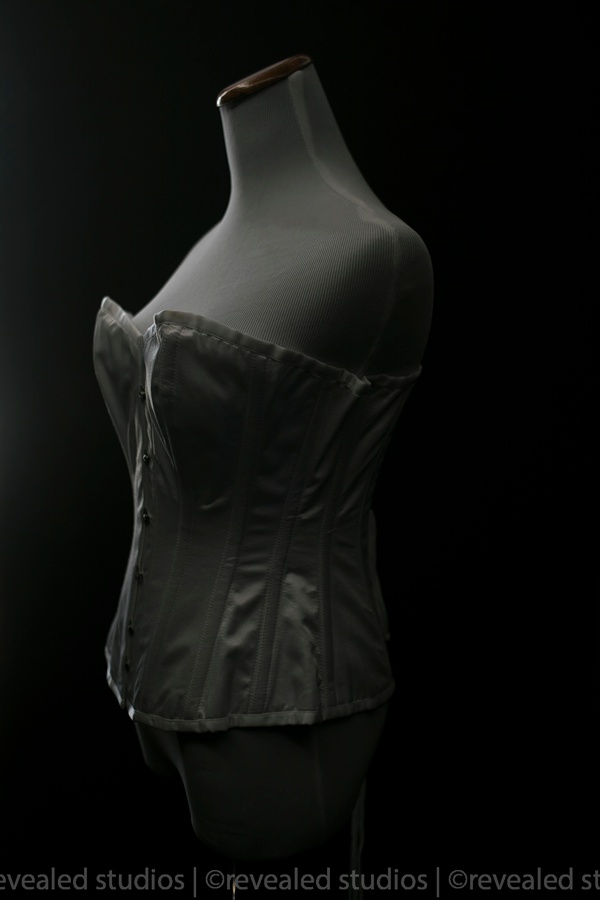 Above shows the affect, of the two v-flats created the "black box"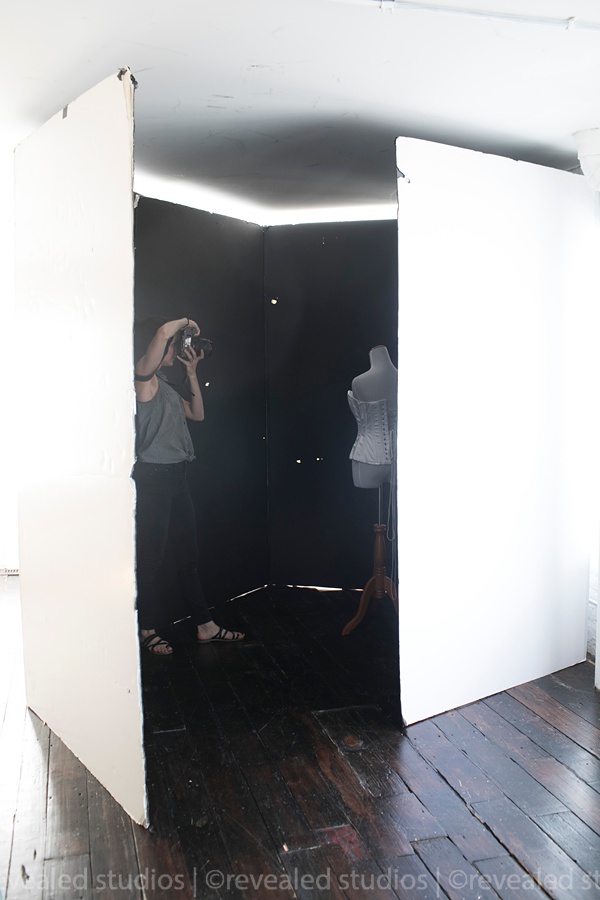 This image gives a broader viewpoint of the "black room." What we love about the v-flats is their lightweight makes it easy to create this affect in different areas of our studio, creating a lot of flexibility for different sets.