Is a boudoir session worth it?  Our real clients share their thoughts.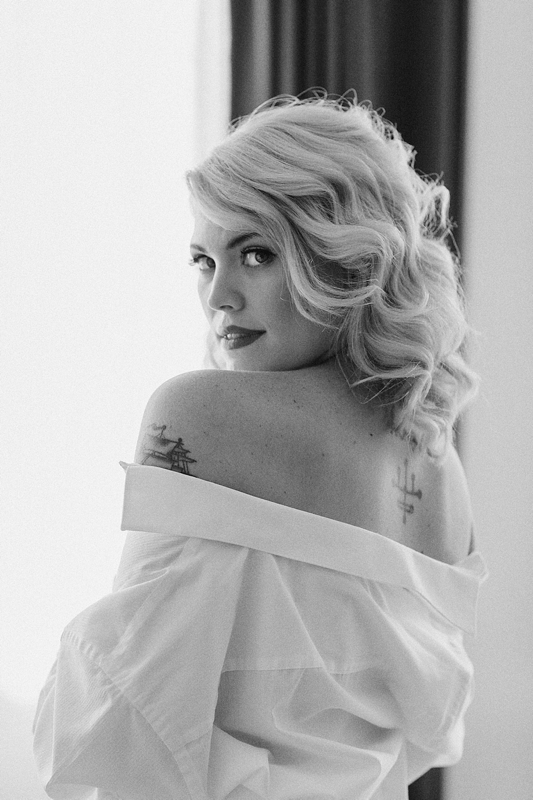 We couldn't be more grateful to work with such amazing women across not only Chicago but the world (it's true! one client came all the way from Australia.) Nothing makes our heart pitter-patter more than to leave our client's delighted. We really believe in creating an experience that leaves you with more than pictures. We're here to nurture the inner feminine spirit. We want to help our gals feel a little better about themselves when all is said and done. That to us is what it's all about.
But don't take our word for it. Read the reviews below or hop over to our Yelp page, where we have more than 30 five star reviews (thank you ladies!!)
MS. S' gift for husband became an empowering afternoon for herself.
"HOT DAMM! I cannot recommend Revealed Studios enough.  I went in for a boudoir shoot and from the moment I stepped through the door Maggie and Kelly and my makeup artist Anjelica made me feel/look like a freaking goddess.  Maggie gave very subtle but extremely helpful direction for my posing so I didn't look a drunk giraffe , and Kelly acted as the back up photographer/moral support/ champagne queen. I did not feel awkward for even half a second because they were so supportive and professional. The shoot was supposed to be a present for my husband but it ended up being a super empowering afternoon with some kickass ladies (my husband still loved it and my butt looked like a billion dollars so win win). I had never done any photo shoot before let alone a mostly naked one and they made it an experience I highly recommend to any and all my friends, possibly even my mother.   Not to mention the space they shoot in is very artistic and industrial chic.  My cool quotient went up ten points just from being in the building. Do it. Book it. Its worth the money, its worth ten times the money. You will look at your body afterwards and be like HOT DAMM!"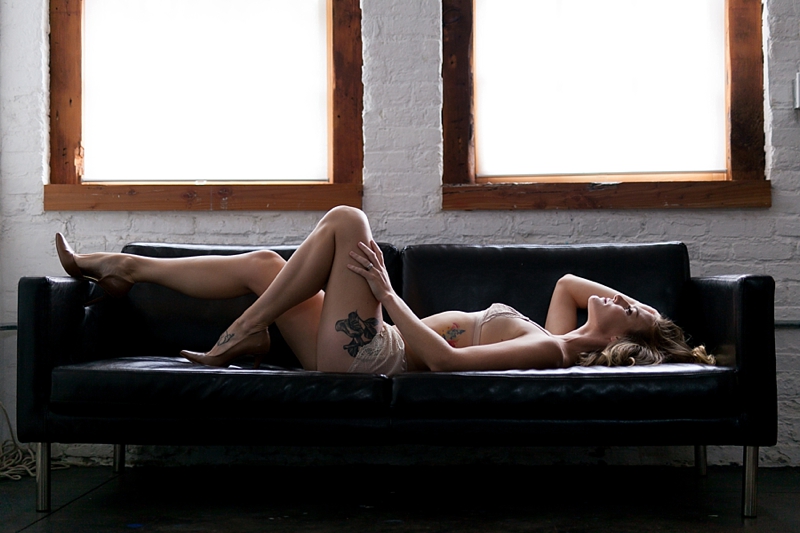 Ms. A tells how the best parts of her shined during her boudoir session.
"As someone who usually hates pictures of myself, I can't believe how good they turned out. I've struggled with body image my entire life so this was way out of my norm. Maggie and Kelly are pros from start to finish. They make you feel comfortable in your own skin and beautiful. They found the best parts of me and helped me shine. I wanted a gift for my husband for our one year anniversary that was really special. In some ways, I think I gained more from this experience. You're in great hands… I highly recommend. It's empowering and you'll feel really proud of yourself after it's finished. I say, take a deep breath, and go for it. You won't regret the experience. I felt prettier in these pictures than I did on my wedding day. #girlpower"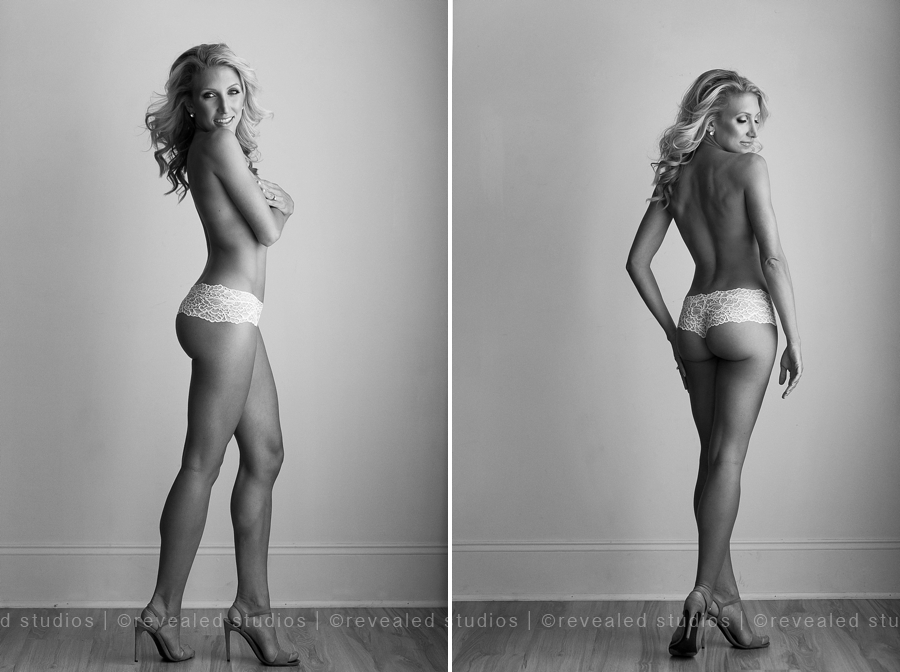 MS. J surprised her husband of 20 years, and herself.
"I was searching for the perfect gift for my husband of almost 20 years for Christmas and had heard about boudoir photos and thought I would start looking for a place in Chicago that did this.  I immediately found Revealed Studios and was impressed by their work I saw on their website.  I was really nervous, but bit the bullet and scheduled a co-shoot with my best friend who wanted to do this for her husband.  When I first met Kelly and Maggie I immediately felt at ease because they were so personable and charming.  I was SO nervous at first, as was my friend, but I'm happy to say that within minutes of us starting I felt comfortable.  As the shoot progressed throughout the day, I came out of my shell with their coaching.  They were so talented and amazing and made me feel so beautiful, sexy and amazing.  I came home and told all my friends about my experience and how good it made me feel about myself.  I would highly recommend that every woman do this for their significant other…but most importantly, to do it for themselves (even if they have no significant other).   We went back to see our proofs and to pick out our album and I was absolutely floored by the results.  I couldn't believe how sexy and amazing I looked!  Maggie is an amazing photographer and so talented.  Kelly was also so fabulous!!  I can't wait for Christmas when I can finally share this work of art with my husband!!"

Ms. C told everyone about her boudoir shoot.
"I could not recommend this studio more. Thankfully, a friend of mine referred me to Maggie/Revealed Studios when I was looking to create a wedding gift for my now-husband. Never in my life would I have expected to do a boudoir photo shoot – and I truly could not be happier that I did. I enjoyed every single moment of the experience – and my nerves left me right after meeting Kelly & Maggie. I have recommended this to EVERYONE – and my friends/family absolutely LOVED the album. The photos were so tasteful & classy – my husband wants to use this as our coffee table book 🙂
Maggie & Kelly were also extremely accommodating – I changed my photo shoot date at the last minute, and they immediately rescheduled. They rushed my order because my wedding was only a month after the shoot – and everything came out perfectly. Worth every single penny. I'm so so so thankful I did this & my husband and I have already talked about going back together!!"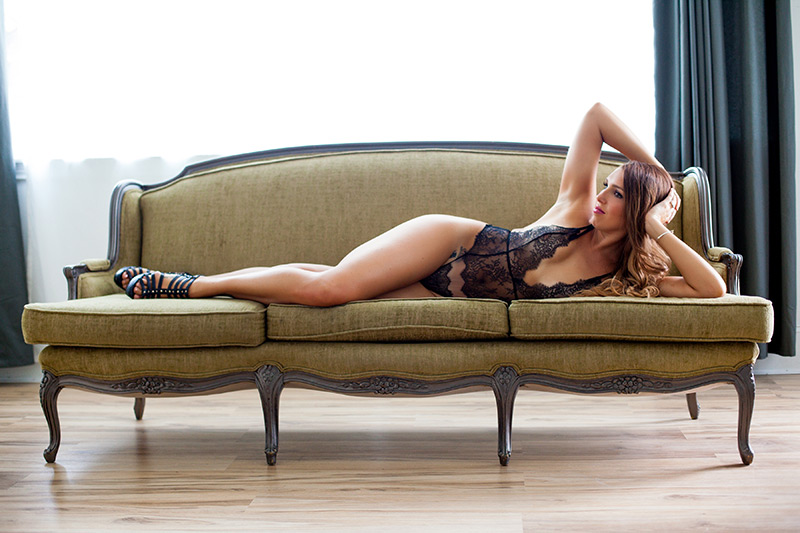 Ms. A's fears were gone within seconds.
"I've put off writing this review of my boudoir experience for some time now because I literally could not find the words to describe how amazing it was.  I contacted Revealed studios in addition to several other Chicago boudoir studios back in March to have a shoot/album put together for a ten year wedding anniversary gift for my husband.  I could not be happier with my decision to go with Revealed.
I've always been a little self-conscious of my body, and notice my flaws far quicker than most.  The thought of being in my underwear in front of stranger was bizarre and a little intimidating.  All my fears and inhibitions melted away within seconds, and by the end of the day I have never felt more beautiful.  I cannot stress this enough – the women at this studio (Maggie, Laurie, Kelly) bring out your inner beauty and highlight your outer beauty in a way that makes you feel strong, confident, and REAL.  At no point did I feel uncomfortable or feel like the shoot wasn't going to show me as ME.
Everyone I dealt with from beginning to end was fantastic – not only professional, but kind, supportive and enthusiastic.  Every question I had was answered, and there were no hidden costs or surprises along the way.
I couldn't be happier with my album.  I think I might look at it more than my husband!  I look… beautiful!  But I also look like ME – not some super airbrushed fake version of myself.  I see all the things I love about myself, and in a way that makes me happy!
Not only would I do this again, I would recommend a boudoir experience with Revealed studios to any woman!  I love the team at Revealed so much, I want to do another session with them!  Thank you so much!"