Plus Size & Curvy Figure Boudoir Photography 
"All bodies deserve respect." – Taylor Wolfram (former client and nutritionist)
But first, a note about the term "Plus size boudoir"
When it came time to decide whether we should even have a section of our site dedicated to "plus size boudoir" we found ourselves gritting our teeth with frustration. Labels. Ugh, at their best, they help us feel connected and empowered to a community. At their worst, they can make us feel reduced, marginalized, and insecure.
Mostly, they help us quickly find content when we need it. Like the party supplies section in a grocery store when you forgot to order dishware for your wedding (eh hem, guilty).
Many of our clients find us by searching phrases on Google like "Chicago boudoir." If you came to this page because you searched "plus size boudoir", you're in the right place. We might not be a fan of this particular label – but we very much want to ensure we're being found by ALL women. If we're not showing up because we avoid this label, then we're missing out on the chance to offer our services in an inclusive way.
As far as the information that might serve useful to you, please keep reading. And let us know if we missed anything! We'd love your feedback. You can send us an email at [email protected].
But wait, what IS the difference?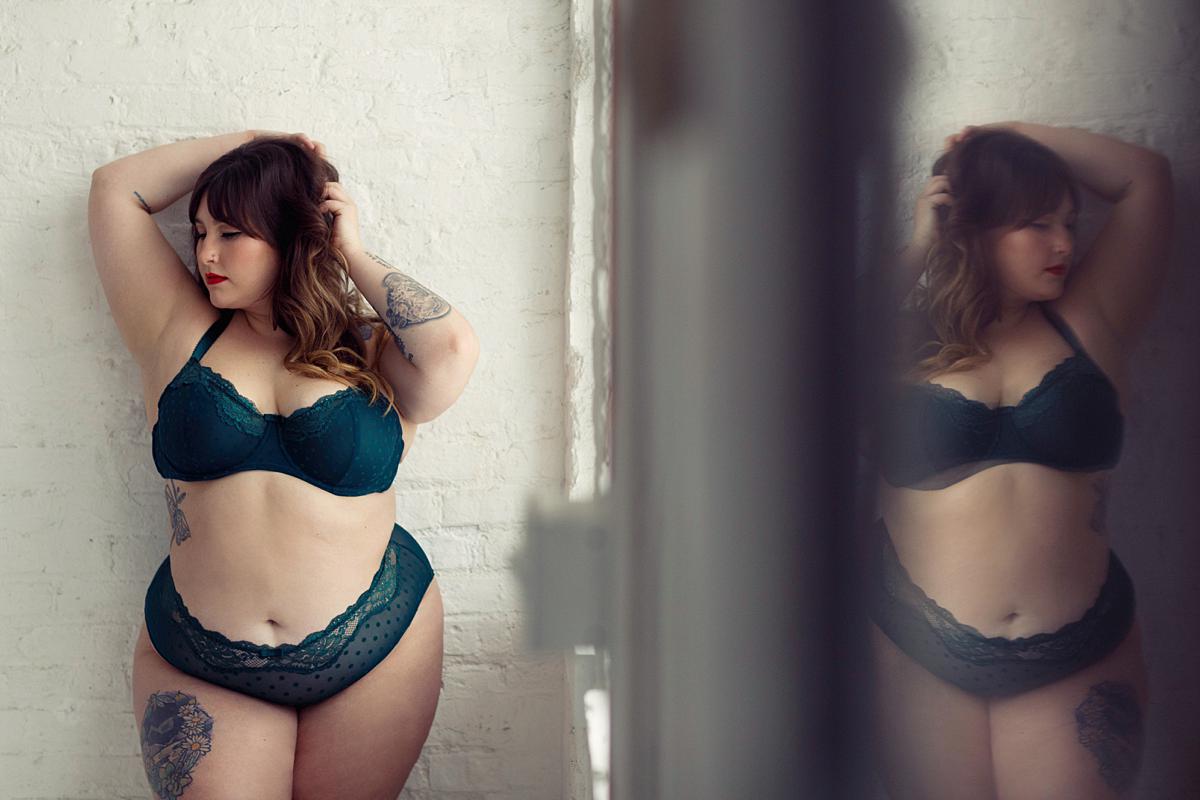 The ins and outs of Plus Size Boudoir Photography
What's different about plus size &/or curvy boudoir? Not much, really. All our boudoir sessions include the key elements: three looks, professional hair and makeup, personalized consulting, and "The Reveal." Every client gets the chance to visit our studio to meet us in person and/or have a one-on-one phone call with owner Maggie or associate photographer Kelly. Working with Revealed is an experience built on comfort and trust. We're like a combination of coach, creative director, friend, and doctor; we've seen a lottttt of body parts ain't no thang. We always do a pre-shoot consultation that can either be on the phone, in-studio, or even both. Nothing's off the table. Share any worries, and ask any questions. This is a judgment-free zone. If there's something you're nervous about beforehand, we can talk it through. In the end, we'll do our very best to be considerate of your physical and emotional concerns. 
You'll help direct me, right?
Posing for plus size boudoir
When was the last time you had a friend or stranger direct you into a flattering pose? Has anyone asked you to lean your chin to the side and touch your fingertips to your hair? Or laugh into your shoulder? Most people don't know how to take photos beyond the generic "ok, stand there, look at the camera, and smile." What makes a professional photographer different is how we sculpt with light, shift form with direction, and change shape with posing. 
With ALL women, the goal is the same, find and photograph you in the most flattering way. There are different poses that do this for fuller figures, just like there are poses that elongate a petite figure or hide anatomy for transgender women. We'll use our experience to direct you throughout the session to bring out your best angles.   
Plus size boudoir outfits
We love helping our clients find items that work for them. When you book with us, you'll receive our fourteen-page style guide that has tons of tips – how to flatter your shape, our favorite vendors, and more. If you're having trouble finding things that work for you, reach out at any time. We have a list of places to shop that carry a broad range of sizes, and we can also offer specific guidance on styles that work for different body types.
Photoshop and boudoir Photography
We are all about doing what we can on the front end to make you look your very best. If you're uncomfortable with cellulite or stretch marks, we can do a lot with lighting, posing, and wardrobe to account for this during your photoshoot. In post-production, we can lighten it up or remove it altogether if that's your preference.  We just draw the line at changing your actual shape or making you a different size. We want to celebrate how incredible you are, right where you're at. Let's embrace and celebrate your beautiful, unique shape!
Wondering what else you should consider for a boudoir photoshoot?  Check out this post: Three things to consider when booking a boudoir photographer.