A boudoir photographer on her experience being on the other side of the camera…
I'm going to be upfront about this post. I should have written it MONTHS ago. Now I have no excuse, and Maggie keeps asking me about it. I gave her a date that I'd write it by, and now it's just a few hours before I said it would be done. But since the Stay at Home order, I've had plenty of time to reflect on the role reversal. So what's was the experience like for me as a boudoir photographer to have my own session?  Read on to find out.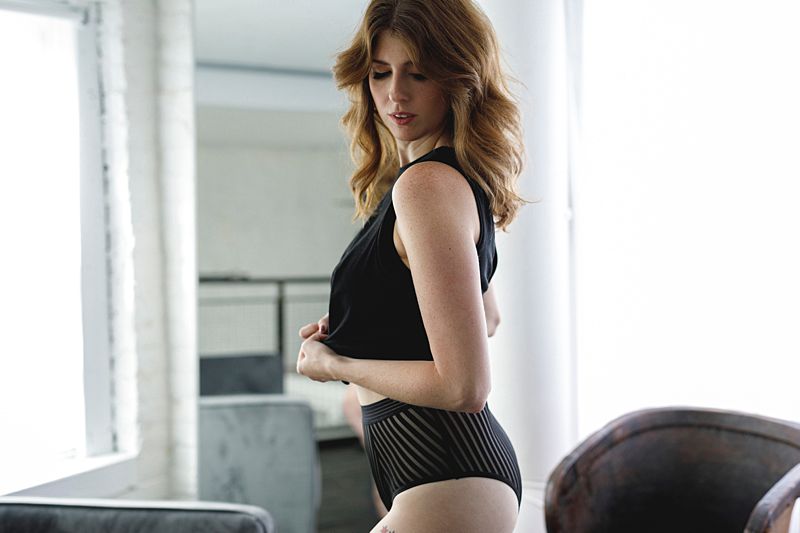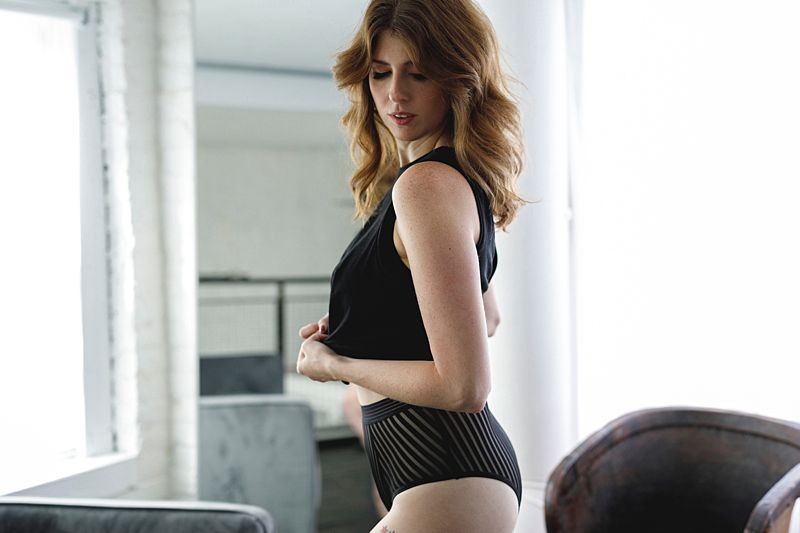 I wasn't the "traditional" bride-to-be.
Last March, my partner Terry proposed to me. It was magical, romantic, simple and very "us". I was excited about being married, excited about certain wedding things, but I was a very reluctant bride. I talked about eloping ALL the time. Even after we had paid deposits, set a date, and sent out invites. Was the week before the wedding a good time to run away and elope on a cliff in Spain?
A chance to do something I felt good about during a sometimes stressful time.
I always thought I'd do a boudoir shoot one day, but like many of our clients, getting married was just the excuse I needed to finally do it. I still wasn't firm though until about six weeks from our wedding. My partner Terry also happens to be our web developer, so he's very familiar with the concept of a bride doing a shoot before her wedding. One day he was in our home office working on a website. Again, me not being the most traditional of brides, I casually mentioned I was unsure whether I'd do a shoot before the wedding. Slightly distracted, he nodded his head and said, "yeah, I'm excited to get the album."  I laughed to myself, and thought, "well, I guess that decides it."
Hearing this actually had the effect of taking the pressure off. A welcome relief during a time when I really couldn't handle any more pressure.
What was the boudoir prep like? I was surprised by how good I felt…
I did the shoot about a month before my wedding date. Maggie brought tequila for us. I also brought tequila for us. If you can't tell, we like tequila. We had a giggle that only boudoir-photographer-best-friends can share.
The morning of my shoot, the lovely Jaycie Ganek was in for a client, so we asked her to stick around. We always say that you'll feel like the best version of yourself after hair and makeup, but I wasn't fully prepared to feel that way myself. I automatically felt pretty when she finished. I wish feeling that way wasn't something society told us we had to do by putting makeup on. But, I also feel like it helped me see myself without directly looking at my flaws (flaws being totally subjective here). And that feeling is priceless, especially for those who tend to be hard on themselves.
The actual shoot was better than I expected.
"Overall, I knew I'd like my boudoir photos, but I also thought, because we shoot these sessions for so many women, the experience would be somewhat lost on me."
I'm not the biggest fan of looking at myself. I often don't like the way I look in photos. I tend to go straight to the things I don't like. I'm critical of my expressions. Something that seems all too common among women. I've gone through the process enough with our clients that overall, I knew I'd like my boudoir photos, but I also thought, because we shoot these sessions for so many women, the experience would be somewhat lost on me. Like I would just go through the boudoir motions, come out with some photos I liked "enough", and check it off the list. But that's not what happened.
There's something fun about being in your underwear…
First, the shoot itself was really fun. It was more fun than I thought it would be. I know I had the benefit of having my best friend take my pictures. But, I also feel like this it was we offer every client who walks through the door. It's one of the things that sets us apart. We're like instant friends who you can feel comfortable around. It's also kind of crazy how fun it is to be in just your underwear when you feel like you have an excuse. Is that weird?
Our clients often say doing a shoot made them feel empowered, walk with their heads a little higher, and feel more at home in their bodies. For me, all those things were true as well.  This surprised the hell out of me. It's going to sound very cheesy, but I felt more myself (a different side to myself) than I normally do. I got to join the club of other people who see me that way, and that felt good. It still feels good. What's more, I can now get out my photos whenever I want and feel that way all over again.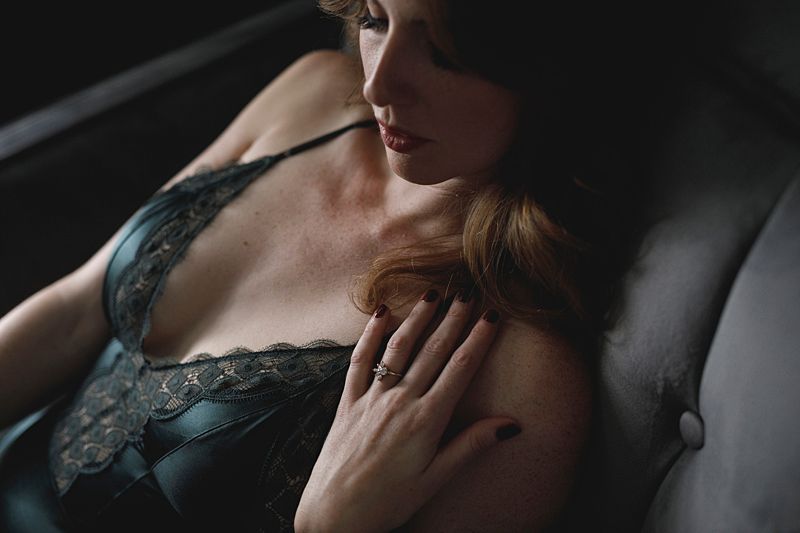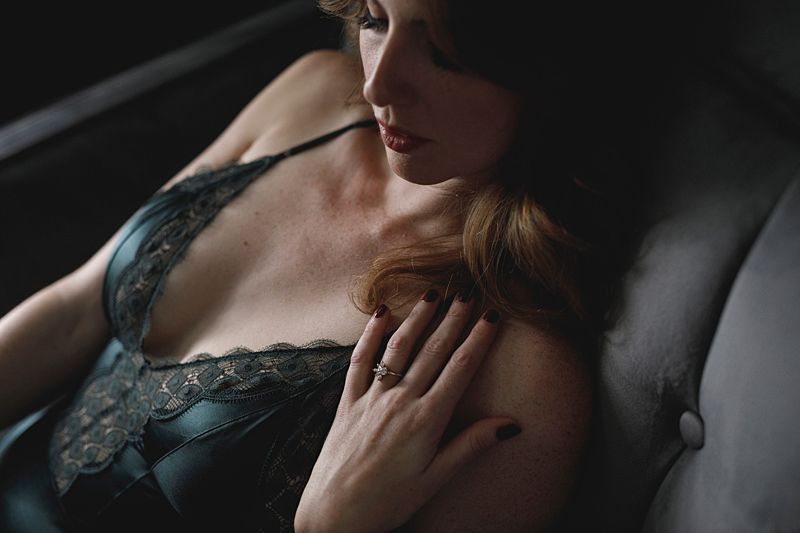 What was it like to give my husband the boudoir book?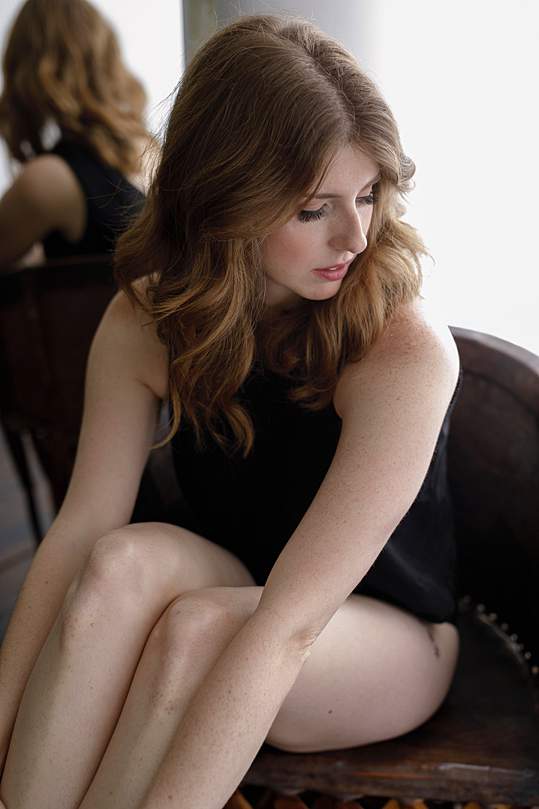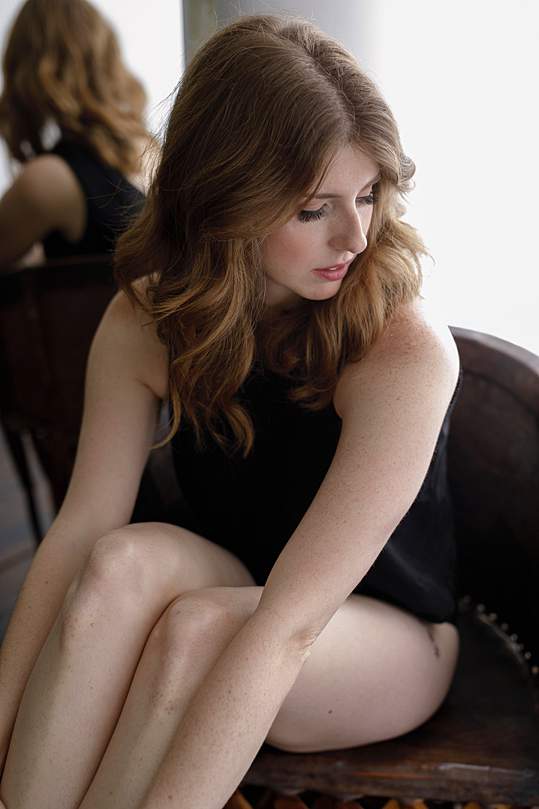 I gave Terry the album the night after our wedding. There was no time to do it before. For some people, giving a boudoir gift can be a super sexy thing, and there was definitely that aspect to it, but it felt a little more intimate than just that. He gave a range of reactions looking through it, number one was asking where this lingerie was that he had never seen before. He told me which ones were his favorites and I told him which ones were mine. After we closed it up, he commented on how special it was to see me that way, and I don't think it was all the sexy poses (even though I don't think that hurt). I think it was the confidence and openness that he doesn't always see on a regular basis.
Looking through the album with him, I got to see how he sees me, and having that, and knowing that, has been a much more important gift to myself.
Ok, that's enough self-reflection for today!
Interested in booking your own boudoir photoshoot?  Contact us here or call today at 773-273-9063.
For more of our work, check out these links below: