The Best Lingerie for Your Body Type: How to Choose
*Images credit Refinery29 in The Best Sexy Lingerie For Your Body by Ellen Hoffman
Whether you are preparing for a boudoir photoshoot or simply want to feel sexy and confident, picking the best lingerie for your body type is essential. With that in mind, this guide explains how to choose lingerie that's a perfect fit for your figure. 
Flatter your figure by choosing the best lingerie for your body type 
We're sure you've heard the saying, "hourglass figure," but that's not the only body type. What about a pear, apple, inverted triangle, or rectangle? Are these new to your ears? If so, you're not the only one! These labels were created to help identify different body figures. 
We have mixed feelings about the use of labels, but in this case, we find they can be useful in discovering ways to flatter your body shape – and select the right lingerie for your body type based on your own unique, beautiful build. 
What are the most common female body types and what lingerie looks best on them?
As you might guess, each body type was chosen for its relative appearance. Pear looks like a pear, apple-apple, carrot… well, you get it. While not totally enlightening, the real value comes from the fashion industry's expert advice for how to dress in these various forms.
Women with apple-shaped figures have wider waistlines, along with narrower busts and hips. We find lingerie that elongates this figure is most flattering.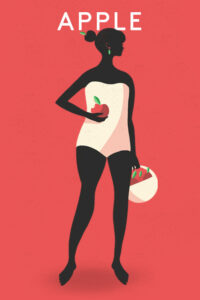 Think body suits with detailing to create more angles like this one, shapewear like this, and pieces with a band at the waist that help create the appearance of more curves. 
Apple Body type linger shops
We're obsessed with Pinsy's alternative to your traditional bra and undies set. This bodysuit has skin-smoothing lace and shapewear technology. Pinsy's flattering lingerie helps you feel your most comfortable self and shifts focus to all your favorite assets. Honestly, it's hard to pick a favorite from their line. We love them all!
Busty Body Type
We (or rather Kelly, co-photographer at Revealed) can speak from experience. "Sexy" lingerie isn't really mad with busty women in line. All those feminine French-inspired pieces with minimal-to-no support are lovely – but not very practical for heavy breasts. 
We feel you… Well, Kel feels you. I have the opposite problem… eh hem, bring on the padding. The good news is that if you're fuller on top, the market seems to be finally catching up and offering more options with new technology that features underwire support.
Tips for finding the best lingerie for busty
Trying to find the best lingerie for body type when busty remains tricky, so we have put together a few tips: 
What are a few of our favorite brands for larger busts?
Curvy Kate offers a mix of the traditional feminine to bondage-inspired pieces. Dita Von Teese is the option for ultra-fem numbers, and Skims boasts a modern take on classic everyday wear. Another helpful tip is knowing your breast type. Are your breasts wide set, splayed, dense, pancake, or a combo? Understanding your shape will also help you choose bras that provide the correct type of support.
Where to find help with fuller-breast lingerie.
If you're struggling to determine exactly where you fall in this category and you live locally in Chicago, check out Journelle, located in Wicker Park. Their employees are super helpful and can organize a bra fitting! Online, Third Love and Understance are two fantastic websites with curated fittings for large busts. Lastly, Bravissmo provides virtual fittings, a special size-finding tool, and a great choice of cups sized D and up.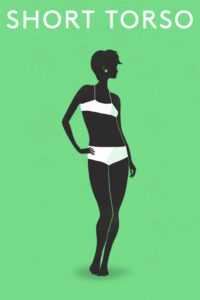 For those with longer legs and a naturally higher waist, we recommend you shop for lingerie pieces that create the illusion of a longer midsection. Think low-rise undies. These will maximize your exposed torso, whereas high-rise bottoms do the opposite.  Play around with out-of-the-box options by choosing hipster or cheeky undies. For a modern flare, try this skims thong, which cuts high on the hips to show off those long legs and keeps it low in the front. What a combo!
Ballerina – a.k.a Sporty Body Type
Those with slender, muscular frames are blessed with the gift of versatility, but folks with this body type may feel challenged by a lack of curves. We recommend tight-fitting pieces that maximize your angles. Tighter bodysuits and bras with less coverage are suitable lingerie for a body type that fits the ballerina mold. For underwear, look for items that don't cut too high in the back, which tends to lead to the appearance of a "flat booty." Try these cheeky panties instead!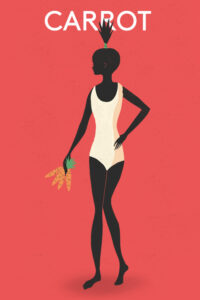 If you're slimmer on the bottom but wide on top, flatter your broad shoulders with halter tops, strapless pieces, and barely-
there numbers. If you're concerned about balancing your form, you can wear cheeky undies on the bottom. Just remember: your shoulders and decolletage are beautiful features. Plus, much of that "balanced form" can be achieved with posing.
Small Chest Body Type
When finding the best lingerie for a body type that's based around a small chest, the focus will, inevitably, be on the breasts. Fortunately, there are plenty of options available. For those who don't need much when it comes to supporting up top, you can stick to simple or even no bras. A push-up bra, bralette, or tight-fitting tank are also popular choices among small-breasted women. You can also go sans bra and instead focus on fun bottoms or a creative top layer like a leather jacket or white button-down (check this post out for inspo).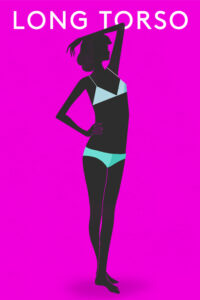 For those with a longer torso, you can go one of two ways. If you're feeling confident with your tummy, show off all that abdomen with barely-there bras and underwear. If you're not too keen on that idea, however, then consider high-waisted underwear, which can shorten your torso and create the illusion of longer legs if you choose a fit that cuts higher on the hip.
Ruler Body Type
As the name suggests, ruler-shaped bodies are straight throughout — without much variation between one's shoulder, waist, or hip. The key is finding undergarments that'll subtly enhance your curves. Unlike traditional bras with bands that are an inch or two wide, longline bras and bralettes extend farther down the torso for a retro feel. They're the crop tops of lingerie and, like high-waisted underwear, are often viewed as an intentional fashion statement. The good news is that they also help fill out your shape a little without resorting to monstrous push-up bras.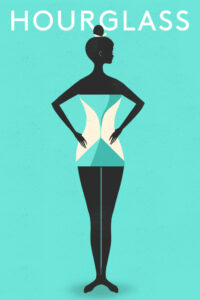 An hourglass shape is easy to identify because it's symmetrical. Your chest and hips are equally proportioned, and your waistline is your narrowest measurement. Use your "classic" shape to your advantage. Add a suspender belt to your bra-and-panty set. The fancy adornment emphasizes your slim waist while also being a unique touch. The finished look it creates is classically sexy, like your shape.
Petite & Compact Body Type
With lingerie for a body-type that's petite, you have an enviable number of avenues you can traverse – all without needing supportive numbers like bralettes and wireless bras. While padded bras were the "thing" in the early 2000s, the style is now more about the natural look. Enjoy the trend! Have fun and go with a demi-cup. Mix it up with the material and structure. Full-body lingerie, lace, mesh, even strappy numbers like this one – the possibilities are endless!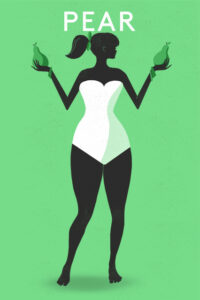 A pear-shaped body is the opposite of a carrot, where it's fuller on the bottom and more petite on top. Show off your upper by wearing pieces that might draw attention to your collarbone or narrow waist. These could be bandeaus, longline bras, and even halters for some tasteful lingerie combos. Feeling confident in your fuller bum? Show off what your momma gave ya by wearing anything from thongs to briefs to high-waisted numbers!
To learn more tips for styling your boudoir photoshoot looks and selecting the best lingerie for your body type, send us an inquiry at [email protected]. We have a full-style guide we're happy to share with you!
Additional body types to consider adding to your list or working into your copy if it is related to an existing body type listed, e.g. also known as, 
stocky body type, 4K MSV

skinny body type, 1.8K MSV

medium

thin

husky